Corporate Profile
Online Store
Monthly Product Review
Equipment Exchange
Backflow
Food Processing
Manufacturers
Established in 1979, Women Owned Since 2011
Welcome to AMI Pipe & Supply. We hope that your visit will be profitable to you and your company. Our sales associates are very capable of helping you with your pipe, valves & fitting requirements. We are commited to customer satisfaction and value our reputation. It is our promise to supply unsurpassed quality and service to our customers.
Call us today for a price quote or for more information about our products and services. We'll provide you with the quick, personalized service that has made AMI the supplier of choice for hundreds of valued customers.
Corporate Profile
AMI recently received their Women's owned Business National Certificate.
For a copy of that certificate please click here to view.
AMI Pipe & Supply Incorporated has been in business since 1979 serving the entire Midwest with pipe, valves, fittings and plumbing and heating supplies.
AMI is provided leadership by President Pennie Rothgeb. AMI currently does business actively in 14 states and 3 foreign countries.
With a central Midwest location, AMI is able to send LTL shipments to over eight million people with a one day delivery. Over 194,000 square feet of warehouse space houses in excess of Four Million dollars of inventory. For years our slogan has been "Customer satisfaction is our number one concern." AMI's greatest assest is a courteous and professional staff which can answer any questions regarding the use of materials. We look forward to serving you and your organization.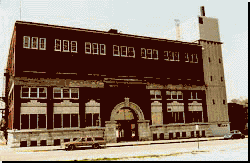 Headquartered in the heart of the Tri-States of Iowa, Illinois & Missouri
Coming Soon
Complete surveys, testing, repair, and inventory of backflow devices. This division includes certified ABPA testers, a licensed plumbing contractor and an ASSE certified trainer, recognized by Iowa, Illinois and Missouri.
This is a newly created division of AMI Pipe & Supply Co.
Years of working with staff members at food processing plants has given us an "inside track" on solutions to the many problems associated with the demands dictated by governing bodies within the walls of these plants.
Major inventories of food processing items include plastic belting, sanitary pipe, stainless steel fittings, washdown hose and fiberglass garating, just to name a few.
Our most important asset is knowledge.
List to be updated soon, come back!